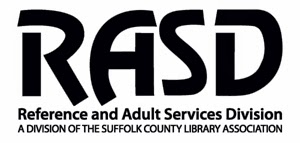 The Reference and Adult Services Division of the Suffolk County Library Association is responsible for supporting the professional development of adult service librarians.
RASD promotes this endeavor through a wide range of committees that concentrate on improving patron services. Through their efforts we provide professional growth, continuing education programs and networking opportunities to develop and improve our profession.
To become a member, click here.