Please mark down these dates in your shiny new 2019 calendar.
SLMA Award Review and Round-table Discussion – January 17 at 10:00 a.m (9:30 coffee) – SCLS Blue Room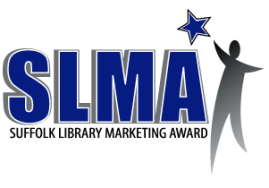 We will showcase the fine marketing and publicity done by those libraries who submitted to the SLMA Award this past year. These are the best of the best, so a great way to get new ideas for your library.
Navigating Today's Local News Landscape – March 14 at 10:00 a.m. (coffee at 9:30) – East Islip Public Library
Jaci Clement, Executive Director of the Fair Media Council, a nonprofit organization with a two-sided mission that works directly with the news media and the public to improve the public conversation and ensure an informed electorate, will teach us how to become more media savvy for our libraries.
Start thinking about any publicity or marketing you have done since 9/16/18, and consider submitting it for the 2019 SLMA Award (deadline – 9/15/19).
The new application will be on the website shortly. For former applicants and winners go to https://rasdpr.wordpress.com/smla/

Jo-Ann Carhart, MLS
Head of Adult Services
Librarian III
East Islip Public Library
381 East Main Street
East Islip, NY 11730
Phone (631) 581-9200 x 5
FAX (631) 581-2245
jcarhart@eipl.org
www.eipl.org
Co-Chair of the RASD PR & Marketing Committee